Finally after a long wait about the next nexus legit leaks, we actually have it and probably the first looks at the Hardware Configuarations which are quite amazing! Probably the Nexus 2016. But it seems like the new Google phone is coming with the old name! Nexus 6P this time again, most probably a second gen! 😀
Though it seems that HTC may take the reigns for this year's fleet of Nexus devices, this doesn't necessarily mean that the 6P won't get a successor, or at least a refresh. With HTC said to have penned a long-term deal to oversee the creation of Nexus devices over the next few years, it was looking like Huawei's recent '7P' trademark would be the only hope of the N6P's continuation. But with these specs having checked in through Geekbench, we may not have seen the last of the handset's legacy.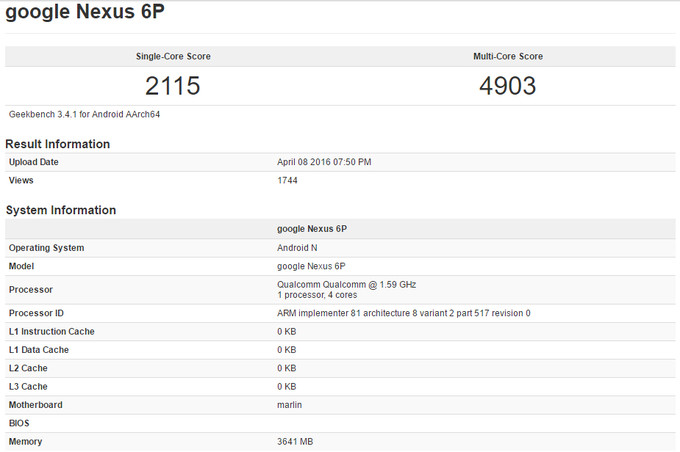 As you'll see above, the device includes the quad-core Snapdragon 820 clocked 1.59 GHz, flanked by Adreno 530 graphics and 4 gigs of RAM. Interestingly, the motherboard section references 'Marlin'—the same moniker attached to one of the upcoming Nexus handsets. It seems possible, then, that an upgraded the 6P running Android N could be in the offing for later this year, though this theory places some doubt on the notion that HTC will man the Nexus fort exclusively.Regardless of how the Big G plans to assemble its manufacturing partners, we certainly would not balk at a new-and-improved take on the N6P. The phablet is unquestionably one of the best of its kind on the market right now, with its array of strong specs packed into a premium, metallic housing. Needless to say, we'd welcome more of the same with open arms.
So, whats your take on it? Excited or meh..? Let us know how would you like this new Nexus and did it impressed you as your words are the final verdicts though! Cheers! 😀