There's some great news for iPhone users. Google just launched a brand new keyboard app for iOS which it is calling Gboard, for a keyboard that lets you Google. Yep, very original. While the name may not be creative, it conveys the idea of what this keyboard is about very well and the keyboard is pretty unique.
Meant to reduce the time you spend switching between apps by letting you perform Google searches from within the keyboard and then inserting that content directly into whatever app you are using, Gboard nails it. Google continues its trend of awesome and useful commercials (that it just started with the one for Now on Tap) with Meet Gboard.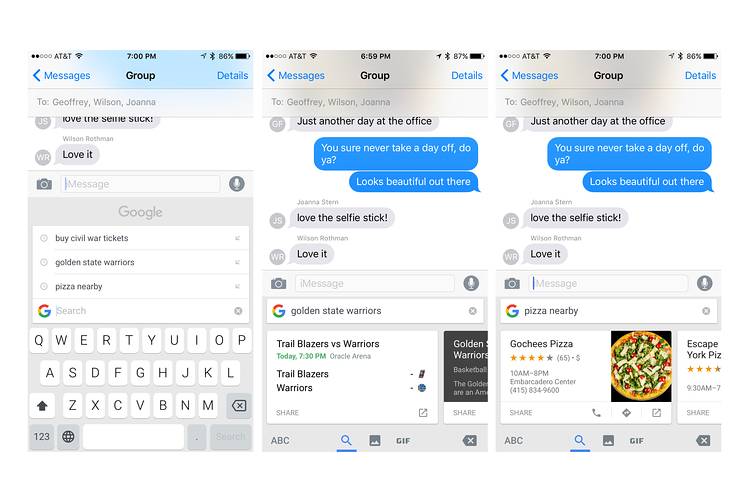 It is not just Google searches that Gboard can do. It also lets you search for emojis, which is implemented as the first prediction when the word you entered has a corresponding emoji. Swype has been doing this for a while now and it time others started implementing this too. GIFs too can be searched and sent, which is yet another nifty feature. The last is glide typing, my pick for the best method for typing on touch screens.
For the privacy concerned, right now Google doesn't let you sign in with your Google account even if you want to and claims that the only information that is sent to Google are the searches you perform. The rest of what you type is not accessible by Google and is stored locally to help improve prediction and accuracy. This might change in the future but you can breathe easy for now.
The design itself eschews material design to emulate the stock iOS keyboard to the point that you might think this the same keyboard with the Google icon on a bar above the first row. That, of course, isn't possible on iOS and hence an entirely new keyboard. Typeface purists might complain over Google using Roboto over San Francisco but short of that, this keyboard is the answer to dreams you didn't know you were dreaming. Now, let's wait for it to arrive on Android.