Just six months after the release of Meizu Pro 6, the company will be unveiling it's new flagship Meizu Pro 7 next month. Meizu has released a poster for the Pro 7 which confirms the launch date to be 13th of september. It also has a rather quirky title " PRO Than PRO ."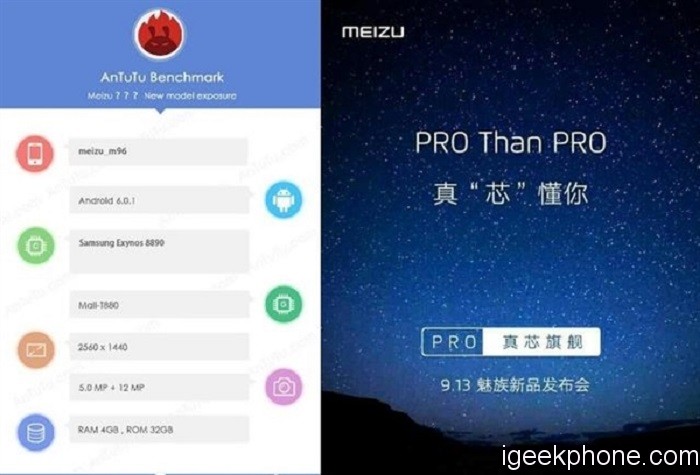 We also get an image that shows that the phone is going through the AnTuTu benchmark. The specifications are what we expect from a high end smartphone. A quad HD display ( 2560*1440), 4GB RAM,a 12 megapixel rear and a 5 megapixel front facing camera. We also see a rather strange choice of the Exynos 8890 chipset which is also used in the Galaxy Note 7 outside of America. Though many believe that it will have a MediaTek processor.
But the main attraction of the Meizu Pro 7 isn't it's beefy specs but rather the use of SAMSUNG's dual edge display. Previously this week leaked renders of the phone suggested to a phone that has a duel edge display resembling the Galaxy Note 7 and S7 phones. This is'nt much of a shock to us as Samsung and Meizu have a close business relationship. Meizu has also purchased a lot of Samsung components directly from them, so the leaks are definitely not to be overlooked.
Meizu has been successful with impressing us with the Pro 6, though their Flyme os and the camera performance wasn't the best. We hope to see an improvement in these categorys.Also being a flagship it only started at 390$ which was really competitve.The Pro 7 may also have a similar starting price which will heat up the 400$ flagship game even more.Further leaks and updates will be posted, so stay tuned with us here!