MWC 2016 Is already here and we have seen a huge amount of both, leaks and announcements coming our way in the last 72hrs. A few more HTC One M10 leaks have also made their way and are still doing so but this one is one of the most important ones! Few minutes ago, @OnLeaks LEAKED the Camera module of the HTC One M10 as an Image on his Twitter! This looks a lot like the same old thing on the One M8 and it's clear that HTC is repeating its history.
The One M10 is what is expected to succeed the One M9. In fact, rumors about this device have been flying around for some time, sometimes under the "Perfume" codename. Evan Blass, a.k.a. evleaks, even gave us a sneak peek of the front of the anticipated flagship, which revealed that it might pack an oval home button, which will most likely house the fingerprint scanner.
Today, a new leak from China micro-blogging website Sina Weibo hit us, claiming to show the back side of the HTC One M10. We get see the camera unit, which seems like it's a little bit protruding. As a refresher, rumors say it will be a 12MP UltraPixel snapper. To the right of it, we see a dual-tone LED flash; the black part right below the flash might, or might not be a vertically-positioned laser-assisted auto-focus system system.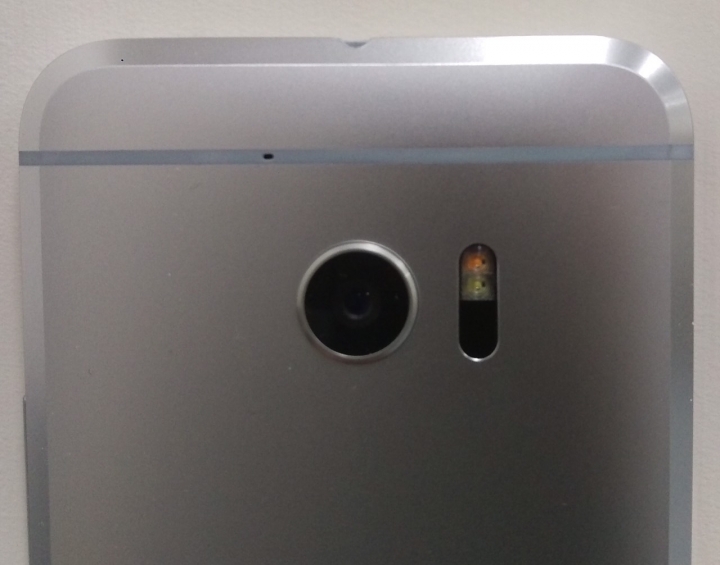 We've got clearly visible antenna bands, too, with what appears to be a noise-cancelling microphone. At the left, there's a hint of a hardware button, most probably the power Finally, there's a small cutout at the very top of the phone, which is most certainly a 3.5mm top-positioned audio jack. As far as the design of the phone is concerned, it looks like its made of metal, which is unsurprising. We also get to see lots of bevels this time around. That's not typical of HTC, as most of its devices usually feature more curved lines, but there's no law forbidding the Taiwan-based manufacturer from spicing things up in the design department. As usual, take this leak with a grain of salt and make sure you share any thoughts you might have in the comments sections! 😉