Before information about the Galaxy Note 6 started to leak, we got to learn plenty about the Galaxy S7 and the Galaxy S7 Edge and the web was obsessed with it. And now, when things had begun to calm down, we have fresh information on another phone from the same maker, the Galaxy Note 6. A phone that's rumored to come with a 5.8 inches display and an unbelievable 6 GB of RAM.
A Chinese Weibo account has posted some specifications of the Note 6 which mention a 12 MP camera, along with a 5.8 inches AMOLED display with a resolution of 2560X1440. Additionally, there is also a mention of 6 GB of RAM. The latter news does not come as a complete surprise because it was only a couple of months ago that Samsung announced its 12 GB mobile DRAM chips. This opened the door for 6 GB smartphones in the near future because the 12Gb LPDDR4 enables 3 GB or 6 GB of mobile DRAM in a single package by simply using two chips and four chips respectively.
Currently, even the fanciest of Samsung phones do not go beyond 4 GB of RAM. However, a 6 GB phone sometime this year shouldn't come as a surprise now that the official announcement about the technology has been already made. Note 6 will be equipped with a S-pen (who saw that coming?) according to the leak, but there are no updates about the battery-life of the device. Watch this space for all the latest developments.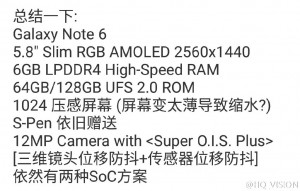 As per the early small spec list of the Galaxy Note 6, an absolute beast when it comes to memory! Though we might not need such huge amounts of RAM right now, once the first phone with this much RAM appears it is inevitable that more will follow and people will come to expect this as the new standard for flagships. Of course, this will vary from person to person. Meanwhile, let us know what you think of the phone and let us discuss about it in the comments sections below! Cheers! 🙂