Android is already a OS Giant and the most dominating Mobile phone operating system in the world. But, with bigger name comes bigger troubles! We mean "Virus" which is almost every other OS Developer's nightmare. But.. Things can be way better if you protect your phone the right way! We Present, Bitdefender: Free Antivirus for Android -An amazing Android Security app!
 Installing Bitdefender
'Bitdefender Antivirus Free' app can simply be downloaded from Google Play Store,being 2.4 MB it only takes few seconds. It is recommended to download 'Bitdefender Mobile Security and Antivirus', providing extra level of security which also doesn't take more than r5 seconds.
HOW DOES IT PERFORM?
On first opening Bitdefender Mobile Security it asked us to do a full scan. This took around 28 seconds on our much used Bluboo Xtouch and – surprise! found no malware. Properly testing Android malware scanners is notoriously difficult, and there is a lot of smoke and mirrors out there. I keep my phone safe though 😀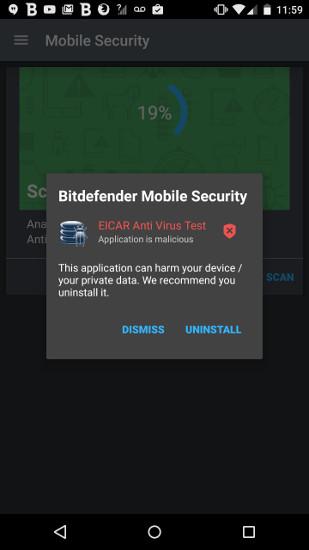 Well, according to a test carried out in February 2012 by respected independent anti-malware testing agency AV-Test.org, Bitdefender ranks 10th out of 41 Android antivirus tools tested, finding more than 65 percent of malware on scan. It's not an amazing result, but to be entirely fair, Bitdefender found most or all malware in all families of malware apart from one – jifake. In context, that means you'd be very unlucky if Android malware got your tablet or smartphone while you had Bitdefender running. Great work team! Cheers!
Web Security is switched on by default. The uses the Bitdefender Cloud services to alert you about web pages that contain malware, phishing or fraudulent content, as you hop about the web. It worked well in our tests, and it's database certainly has sufficient people in it to make the results meaningful. As with all such services, however, beware false positives.
WHAT WE LIKED?
Yeah, so the good news is the ability to remotely locate, lock, wipe or send a message to your Android device are both comprehensive and easy to use. So from our point of view, Bitdefender Mobile Security Premium for Android is one of the better Android security apps. You have to go to My.Bitdefender.com and allow Bitdefender admin rights to your device, but these are pretty standard. You have to trust somebody, as the song says, and it may as well be a reputable AV firm like Bitdefender.
CONCLUSION
Bitdefender Antivirus has been a long-time Editors' Choice winner for Android antivirus, and it retains the title till now. Its reasonable price, excellent malware detection scores, and light footprint make it an ideal mobile security app. Continued improvements and the refreshed Web interface make it an even more-attractive choice. But Bitdefender is joined by the slightly more-expensive but highly capable Symantec Norton Security and Antivirus as our other top pick for Android antivirus.
We surely suggest you to try it out 🙂