Recently Nokia, the former Tech giant has announced that they are finally getting back to track and will soon introduce their new lineup. But as we know, leaks never stops and here we have something to showcase which is indeed Nokia's key for a massive comeback. Called the Nokia D1C, its a hell of a sexy phone and very impressive in terms of hardware for the Price!
According to the information the Nokia D1C will use the new mid-tier, octa-core Snapdragon 430 SoC, with each core clocked at 1.4GHz. This will be backed up with 3GB of RAM, and run Android 7.0 Nougat. The phone is expected to be one of the devices from it's budget lineup, with the name being a prototyping name.
The budget coming Nokia D1c scored 656 to 667 in single-core performance, while scores for multi-core performance ranged from 3,120 to 3,229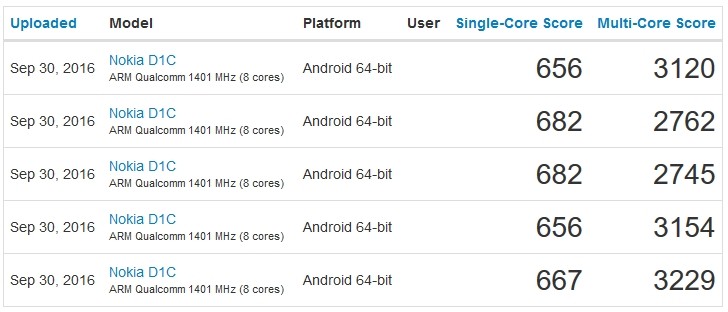 In May Nokia granted HMD Global a 10-year license to produce tablets and smartphones under the brand Nokia which will be manufactured in China by Foxconn. However, Nokia is believed to be working on two flagships for an End of year release which will run the Qualcomm Snapdragon 820 chipset, feature 4 to 6GB RAM and upto 256 GB storage. Nokia will also be adding their PureView camera tech to the flagship phones they launch here on out.
The Nokia D1C is expected to be a phone in the Nokia 5310 lineage with the branding ok Nokia 5320, as the name was spotted last month. The Nokia D1C is expected to launch for less than US $ 150 while in India the D1C should be priced around Rs. 8999.